Scripting a New Life on a 'Magic Slate'
April 6, 2016, 7:31 p.m.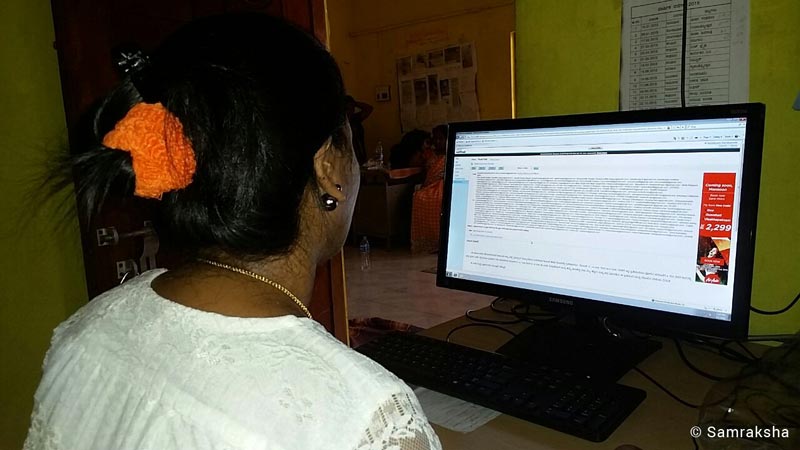 Since 1993, Samraksha, a Bangalore-based Civil society Organisation, has been tirelessly working with HIV-impacted communities and those at high risk of contracting HIV including women in sex work. Samraksha's commitment to making communities own and sustain HIV responses has led to not one but many success stories of collective community action and empowerment of once-excluded and abused individuals especially women in sex work. While exploring innovative means to empower these much-maligned women, Samraksha ventured into the off-beat path of Information & Communication Technology (ICT) to draw them out from their cocoons and empower them through technology-aided knowledge and skills.
Samraksha and Mahiti jointly developed a programme called 'Magic Slate' which opened up the magic dome of technology and a world without borders to 55 women from Northern Karnataka.
Each of these women went through a training where she picked up the skills to use a Tablet - 'Magic Slate' - for accessing and using services on the internet. This technology partnership of Mahiti with Samraksha, succeeded in empowering women through counselling, literacy, using a Tablet and skills in internet and technology-based communication. At the end of the phased training workshops, the women were a changed lot, their self-esteem and confidence an all-time high.
Seema Devi (name changed) one among the 55 equipped with a tablet and basic IT and leadership skills, shares how adopting technology and learning soft skills changed the quality of her life.
"As women in sex work we were never ever treated as human beings or received with respect. We ourselves had no self-respect and always thought very low about ourselves. This attitude had made us introvert and arrogant. At some point even our family members including our parents and our children had started avoiding us.
"That is when Samraksha enrolled us in a training workshop to equip us with both soft skills like leadership, communications using internet and skillful handling of equipment like a Tablet. This Tablet turned out to be a 'Magic Slate' for us where we could write our thoughts, communicate with others and explore a whole new world of knowledge, skills and information. With each session and the hands-on learning on the 'Magic Slate' our confidence grew by leaps and bounds. In a span of 18 months we learned 60-70% of basic technology, like google search, sending the report through email, route map searching, etc. We transferred the skills and knowledge gained to our family members and took photographs during family functions. Supporting our children to do better project reports in the school gave us the most joy.

" To those around us our training in using the Tablet, internet and websites was just another occasion to ridicule us, who they considered illiterate. Their ridicule and harsh comments made us only stronger. The knowledge and skills we gained created an inner strength to understand our roles and responsibilities, boldness to break our silence, reach out to other women like us to create awareness about rights and to address our concerns and demand our rights.
"Many who trained with me are now planning for higher education, especially to learn more about technology. Technology showed us the path to gain knowledge and skills required to become respected and valuable citizens."
Mahiti is proud to have been a Technology Partner of Samraksha. 'Magic Slate' was as much a learning experience for Mahiti as it was for the women. As a next step, Samraksha and Mahiti are planning to scale up this successful experiment to reach out to more and more women like Seema Devi.