'Rooting for crowd-funding'
Jan. 12, 2015, 3:30 a.m.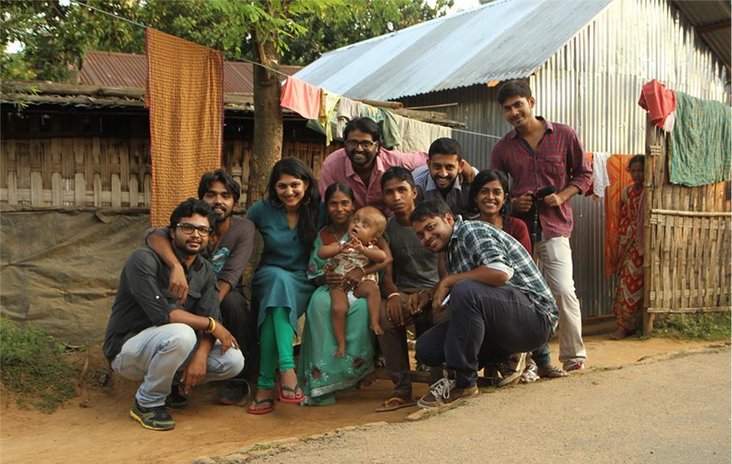 Summary :
How an independent film production house raised money online to film their movie 'Rooting for Roona' that aims to bring awareness on the state of children's healthcare in India.

Thousands of children in India are born with congenital birth anomalies and are ignored and shunned by the healthcare system and the society at large. Roona is one such girl from a remote part of Tripura, who suffers from Hydrocephalus, a birth defect caused by a build-up of fluid in the brain leading to massive swelling of the head. While Roona's case caught the attention of the media which was able to garner support from a wide audience to help her go through several surgeries required to address her birth defect, the question of the state of children's healthcare in India remained unanswered.

CurleyStreet Media, an independent film production house based in Bangalore, that makes films on social issues launched 'Rooting for Roona' a film project set to bring awareness on child healthcare in India. In 2013 'Rooting for Roona' started to crowd-fund their film online and became India's largest successful crowd funded non-fiction film.

We got to chat with Pavitra Chalam, the Director of CurleyStreet Media, about how they went about their online campaign to raise funds for 'Rooting for Roona'.

How did you decide to raise funds for your project online and how did you go about choosing the most suitable online platform?

When we came back from our first visit to Delhi where baby Roona was having her surgeries, we knew that we had to bring her story and the stories of many other children like her, before the eyes of the world. We wanted to have full creative control over the film, which is why we decided to raise funds ourselves instead of looking to any individual or organisation to produce the film. Going down the crowd funding route ensured that Rooting for Roona would remain a completely independent production and would engage people in our cause.

Our friends and our loved ones were very clear that they would stand by us. This is exactly why we took this leap of faith. When you crowd-fund a project you are bound by the commitment and the statement you put out there. It is set in stone. Every single contributor has ownership of the film and is equally invested in making sure that people around them watch the film.

When we were looking for the right platform on which to launch our project, our research showed us that the two most efficient and popular platforms were Kickstarter and Indiegogo. Kickstarter's model and policies makes it more suited for campaigns based in the U.S. Indiegogo was an equally well received platform with a structure better suited for a global audience and where a person or organisation from any part of the world could set up their campaign. Hence we decided to go with the latter.

How much did you aim to raise and what was the timeline?

We had aimed to raise 30,000 USD through our Indiegogo campaign and we surpassed that mark. At the end of the campaign we had raised 32,001 USD.

We launched the campaign on 9 July 2013 and went on for 45 days.

What were some of the most important things that you had to do before the launch of your campaign?

We planned out every detail of the campaign and its follow up. From the time that we had decided to crowd fund this project, till the time of the launch, we spent two months dedicated to the pre-campaign work.

We researched and wrote to people who had run successful crowd funding campaigns, in order to get their feedback on best practices that we could use to optimise our campaign.

We learnt that most successful campaigns make it a point to sound out their own network in order to gauge contributions that people were ready to make even before the campaign was launched. This helps in determining how realistic one's target is. We wrote to all of our friends, family and extended network of people and asked them if each one of them would be ready to make a minimal contribution to the project. We received an incredible response from them. This not only gave us a boost in terms of motivation but also helped us work backwards and ensure that at least 50% of our funding goal was sure of being achieved even before we went live.

We set up Social Media pages dedicated to the campaign on FB and Twitter and designed a website that talked about the film and the campaign in detail. We created marketing material in the form of a campaign logo and artwork, promotional posters and flyers, T-Shirts etc., in order to give the Rooting for Roona campaign a distinct look and identity.

We planned social media and video updates that would be released during the campaign, well in advance. It is crucial that one has a plan of action that keeps the campaign visible and the public engaged right from the get go.

We took great care in designing the campaign page on Indiegogo. We created a write-up that explained what the film was all about and why we were doing this. We created a pitch video in which every person from our team, talked about why we were determined to make this film and why we needed the help of the public in order to make it a reality. We ensured transparency to potential funders in terms of how and where the funds would be used.

We created rewards for each giving level to show our gratitude and give back to people who invest in our film. We made sure that the reward delivery process that would begin after the campaign ended, was also chalked out in advance.

We wrote to journalists, bloggers and other people, with noted online influence, to help us promote the campaign and spread the word as far and wide as possible.

The whole team had their roles clearly defined and we stuck to a routine and delivered on it.

What were some crucial things you had to take care of during the campaign and post-campaign?

In the launch phase it was all about making sure maximum visibility was achieved online and that we had not missed out any detail. We shared the campaign link like crazy and asked every possible person who followed us online, and our entire extended network to do the same.

Throughout the campaign we posted at least one update on social media a day. At regular intervals we posted video updates. We monitored every spike and dip in funding that came in and boosted our outreach accordingly. We had a plan to reach out to the people who had promised us a contribution before-hand, wherein at different stages we would remind a different set of people to make their contribution. This ensured that we always had a steady flow of funds coming in. We made sure that we responded to anyone who wrote in with any queries, or words of appreciation on the very same day.

A week or so before the targetted end of the campaign, we had already reached our goal. So we sat down and defined a stretch goal that would outline how any funds raised over and above the target amount, would be utilised and we shared these new goals on our page. This was crucial since we had engaged the trust of all our funders and at no point could we be ambiguous. For the duration of the campaign the team would literally eat, sleep and breathe Rooting for Roona and we dedicated most of our time to the campaign. We have no complaints about that – the results went beyond anything we could have dreamed of!

At the end of the campaign when we had surpassed our target we celebrated by thanking all our funders profusely! We realised that we were now India's largest successful crowd funded non-fiction film and that information was shared with our funders as well as with newspapers and publications, quite a few of whom decided to do a story covering the same.

What do you attribute the success of your campaign to? What are some tips for other organisations looking to start an online fundraising campaign?

For starters, we think that the cause itself was one that appealed to people and made them sit up, take notice and want to be a part of much needed change.

As I mentioned before, the fact that we reached out to people in advance and asked for them to be part of this also worked hugely in our favor. Pavitra herself has a tremendous network of friends and well-wishers. It is easier for someone who already has faith in you and your work, to invest in your project than a stranger with whom you have to establish credibility.

Finally, the fact that we were as a team constantly active, responsive and took care to make sure that we didn't miss out any detail, was what brought it all together.

For anyone looking to start an online fundraising campaign we would say:
Ensure you reach out to your network pre-campaign and determine their commitments. It gives clarity in terms of how realistic your goal is, for the people most likely to invest in you are the ones who know you. Statistics prove that most successful campaigns have around 50% of their funding goal already assured of by way of commitments from their own extended network.
Create a team to design and run the campaign, define their roles and responsibilities and make sure that they are consistently upheld. Set aside dedicated time for only the setting up and running of the campaign.
Use social media and engage with print media right from the beginning to promote your campaign.
Thank each contributor personally. There is nothing more effective than good word-of-mouth.
Make sure there is transparency in terms of where and how the money will be utilised.
Create fun, appealing and distinct content and visuals and other marketing materials. And don't forget – a compelling 'pitch' video!
Update every day and make sure your content is fresh, personal and engaging. An active page and campaign always increases credibility and appeals to potential funders.
Plan every detail and do not neglect the follow up to the campaign in terms of reward delivery and keeping the funders updated from time to time till the day the final project/product reaches completion. We still regularly post updates on Indiegogo and via emails on the progress of our film, Rooting for Roona.
LINKS AND VIDEOS:
Rooting for Roona Indiegogo page: https://www.indiegogo.com/projects/rooting-for-roona#activity
Rooting For Roona Website : www.rootingforroona.org
RFR Pitch Video for Indiegogo: https://www.youtube.com/watch?v=4nhOXOu69_Y
Video updates posted during campaign:
Roona's mother speaks: https://www.youtube.com/watch?v=WsqD1gz3Ug4
Experts Speak : https://www.youtube.com/watch?v=Nq-_2HJWHNc
Rooters for Roona Speak : https://www.youtube.com/watch?v=SCpwCwF2Xdg